Education & Careers
-- Hydrogen Newsroom --
NEW ISSUE - Hydrogen Today 33-1 (2022)
---
News & Events, Announcements
~ Dan and Stan, The Energy Men. Awesome honest analyses of energy economics.
https://rumble.com/search/all?q=ossum44

~ Dan's growing energy gap chart.
~ Toyota plans a Hydrogen Factory Europe.
https://newsroom.toyota.eu/toyota-hydrogen-factory-scaling-up-its-european-activities/?fbclid=IwAR2A-ttwliN5WGCilR1uTj-lrAl_5WT6Lx-zuMEJDmqBqGo1kNHCdGM1Zuc
~ Will 30 ton LH2 per day Phoenix Hydrogen Hub produce 3 times more CO2 than natural gas.?
https://www.linkedin.com/pulse/how-many-carbon-offsets-do-you-need-offset-emissions-green-poljak-fhtoc/?trackingId=Ifg9VVfwS1KTcIEuMTDGQA%3D%3D
~ Linde (U.K.) new $90 million LH2 plant in McIntosh, Alabama now producing 30 tons per day with jobs for 6 operators and 10 truck drivers.
https://www.linde.com/news-media/press-releases/2023/linde-increases-hydrogen-production-in-southeast-united-states
~ Midwest Alliance for Clean Hydrogen (MachH2) Hub will get up to $1B DOE funding for supplying hydrogen. Members include Nikola, BP, Exxon and a nuclear reactor company.
https://www.freep.com/story/news/local/michigan/2023/10/13/michigan-hydrogen-production-project-money/71170805007/
~ Naming Newfounldand's 3 GW wind to 250,000 tons a year of hydrogen Project Nujio'qonik doesn't quite satisfy some of the locals.
https://www.wind-watch.org/news/2023/01/20/tensions-high-on-port-au-port-peninsula-over-wind-hydrogen-megaproject/
~ Danish fund investing $10B in Oaxaca, Mexico green hydrogen hub.
https://www.hydrogeninsight.com/production/danish-fund-to-invest-10bn-into-green-hydrogen-hub-in-mexico-says-president/2-1-1561046
Join Our Weekly Online Forum - Thursdays 6:30PM to 7:30PM Arizona Time.
Please join our conversation from your computer, tablet or smartphone.
Click the Link to Join: https://global.gotomeeting.com/join/373085893
You can also dial in using your phone. (646) 749-3122. Access Code: 373-085-893
-- Publications --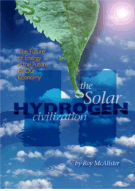 (Free book with AHA membership)
---